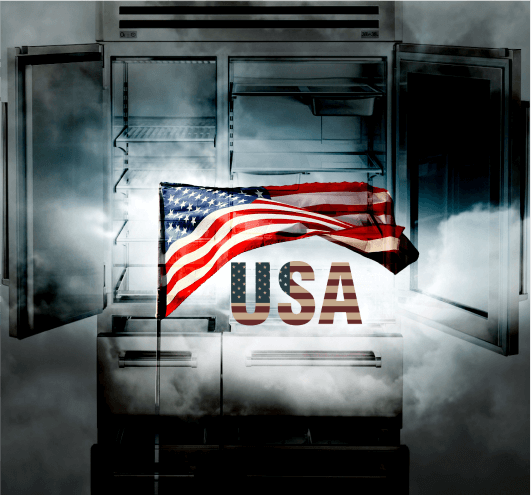 In Its Third Generation Of Family Ownership
One reason for this quality and durability, is that every Sub-Zero model is proudly made in The U.S.A., either their flagship factory out of Fitchburg, Wisconsin. Sub-Zero has two other factories that are located in Goodyear, Arizona and Richmond, Kentucky.

Jim Bakke, president and CEO of Sub-Zero Group, Inc. — "Since my grandfather, Westye F. Bakke, established the company, it has operated on the belief that if you make the highest-quality product, you'll always have customers. Since the beginning, we've been dedicated to making quality products, in the USA, in direct response to homeowners' needs. We've done this for 70 years, and we'll continue to do so for the next 70 years."
Prolong Food Life. Two Compressor And Condensers Are Better Than One.
The difference in what has made Sub-Zero so unique compared to its competitors is how they have pioneered the dual refrigeration technology. What this means is that Sub-Zero has two beefy compressors and condensers. This technology creates the best atmosphere and optimal preservation conditions for fresh and frozen food. The cool, moist air of the refrigerator keeps food fresher and lasting longer, while the frigid, dry air of the freezer prevents frost and freezer burn. This creates a true freezer and refrigerator system that does not allow the air to be shared between the two as they are sealed off from one another.
Sub-Zero pioneered a dual refrigeration system with separate cooling systems for the refrigerator and freezer. This prevents hasty spoilage of fresh food and minimizes freezer burn.
Seals In The Cold. Microprocessor Controlled System.
The very doors on a Sub-Zero refrigerator are made with preservation in mind. The seals are so secure that some owners report no thawing of frozen foods after multi-day power outages.
The microprocessor controls the interior temperature to within one degree of its set point. Having this accurate and consistent temperature is key to preserving your food. This technology along with the magnetic doors and superior seal system on Sub-Zero units prevents leaks and also saves energy. The seal system is so good that customers have reported their frozen food still frozen after days of a power outage.
NASA Technology
Sub-Zero has a very unique air purification system that was inspired by NASA. This filter scrubs the air inside the fridge every 20 minutes to remove odors, mold, viruses, bacteria, and most importantly the dreaded enemy of produce, ethylene gas. Ethylene gas is a natural compound that is released from ripening produce that spoils other produce.
Style Icon
Through the years, Sub-Zero has expanded its design leadership with integrated refrigeration that blends in seamlessly with your decor. Your kitchen can be anything you imagine thanks to the countless choices of Sub-Zero.

Our innovative built-in design approach impressed legendary architect Frank Lloyd Wright, who commissioned Sub-Zero appliances for the visionary homes he designed.
Appliances Are Designed To Last A Minimum Of 20 Years
Every Sub-Zero is made to last at least 20 years and thoroughly tested before leaving the factory. Their customers can easily back up this claim, and they do so proudly, as there are still so many models in homes from 20 years ago that are still working. In fact, if you do some digging, you'll find customers with Sub-Zero models over 30 and 40 years old, still preserving and keeping their groceries fresh!